YAESU DR-2X 50W C4FM Multifunction IP Interconnect Dual AMS Digital Repeater
Yaesu DR-2X 144/430 Dual Band Dual Mode C4FM/FM Analog/Digital Repeaters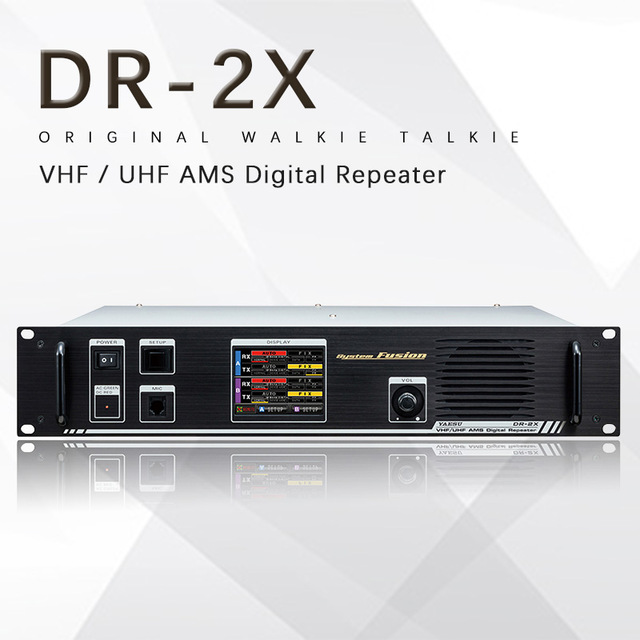 YAESU DR-2X supports C4FM digital / regular FM dual mode and dual receive function relay platform, which includes VHF and UHF amateur radio band.Through the AMS function, the DR-2X mixes communication using conventional FM mode communication and C4FM digital mode.
1. C4FM digital mode provides perfect audio quality
Compared with other digital models, the C4FM modulation mode has better bit error rate (BER) characteristics to ensure good speech quality in communication. The C4FM digital high definition voice technology using 12.5kHz bandwidth enables the high quality voice communication to be transmitted perfectly.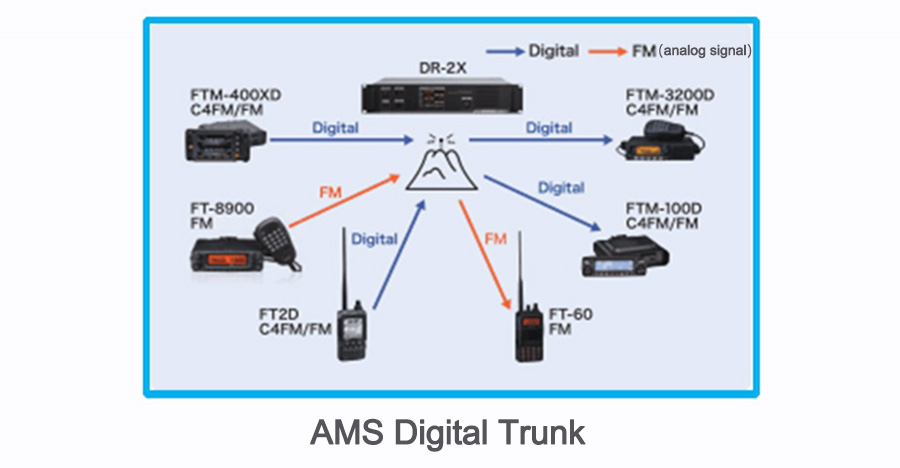 2. AMS makes conventional FM and digital FM friendly co-exist (automatic mode selection).
System integration enables all users, including users using different modes, to communicate with each other. AMS makes all systems possible. AMS automatically identifies C4FM digital signals or regular FM signals, and then DR-2X transforms the identified signals into the current communication mode.

3. Flexible double receiver function
The unique real-time double receiver relay – DR-2X can assign an additional control relay to the relay administrator, transmit an emergency signal, or specify second uplink frequencies. Relay administrators can also independently allocate downlink frequencies based on uplink frequencies.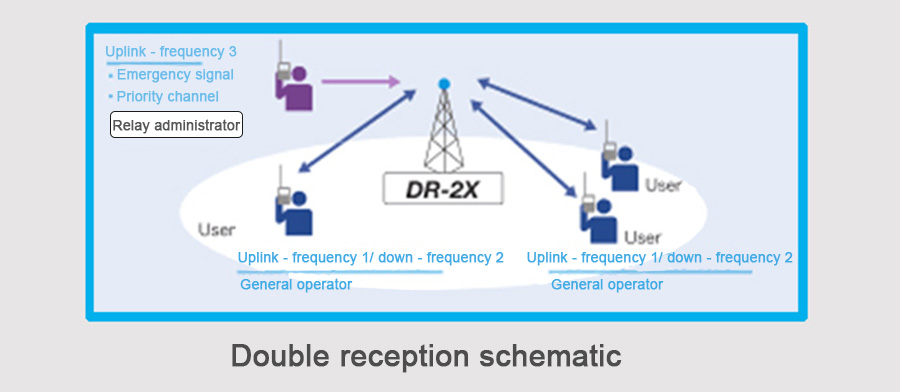 4. Enhanced Digital Group ID Function
The revolutionary digital group ID function enables users who share the same digital group identification code to quickly and quickly track multiple communication resources and display group member signal strength and telemetry information.
DG-ID
A group ID (0-99) can specify members to participate in group communication. In addition, multi-point relay transmission can be controlled by DG-ID.
DP-ID
For safe relay station operation, you can register the sole ID of the relay station for personal operation identification. DP-ID can restrict access to the relay station members of registered ID.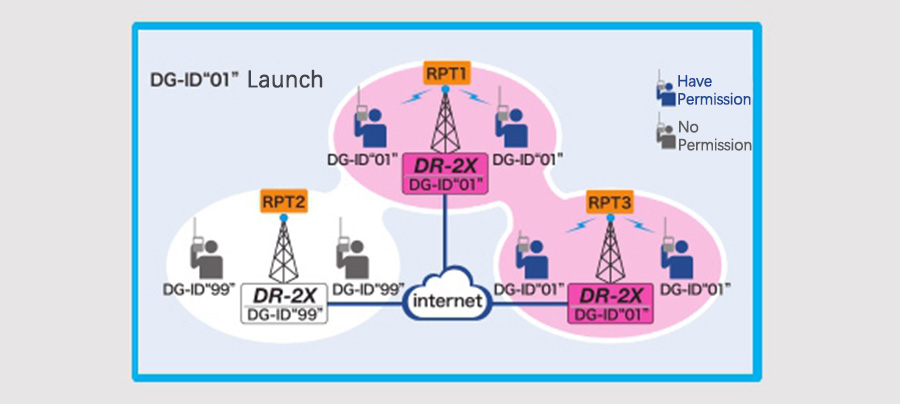 5. Based on Internet connection relay link system (IMRS), large area expands signal coverage (option).
The Internet link Relay link system (IMRS) allows relay use to connect multiple relays via LAN or WAN. Based on the inherent stability defects of WAN connection, such as the Internet, or the words happen all happened, the new DR-2X mixed a variety of forms of network environment, making the connection between the relay more direct, ensuring the quality of digital communication. Digital group identifier can be used to control relay activation. * required component LAN unit (LAN-01A)

6. Friendly interactive settings interface 3.5 inch full touch screen7. Advanced operation
The rear panel controls the I/O port and can be connected to the S-COM7330 relay controller. Up to 3 DR-2X units can be connected to provide programmable sound, clock, access modes and other functions.
8. Other functions
Built-in AC power supply (North American and Asian versions)
Digital squelch code (DSQ) signaling
19-inch standard cabinet connection
CTCSS and DCS sub audio
High stability +-2.5ppmTCXO
Overtime Interdiction Function (TOT)
Firmware upgrade
9. Supplied accessories
AC power cord
DC power cord with fuse
Spare fuse (5A/15A)
Plastic foot
PC Cable SC-20
Operation Manual
Warranty Card
The Yaesu DR-2X is a full feature, heavy duty, C4FM/FM dual band repeater/base station. And unlike many other repeaters, the DR-2X handles conventional FM and C4FM digital transmission. The Yaesu System Fusion technology features the AMS – Automatic Mode Select function that instantly recognizes whether the signal is C4FM digital or conventional FM and automatically switches to match the received mode. The front panel features a full color 3.5 inch, high luminescence TFT touch screen display. The rear panel has both AC input and backup DC input. The power input is auto-switched to backup DC input during power outages.
System Fusion Key Features:
– AMS (Automatic Mode Select) function automatically recognizes the signal as C4FM digital or conventional FM
– Better BER (Bit Error Rate) characteristics of C4FM provides Superior Audio Quality and Crisp Clear Voice
– Better BER (Bit Error Rate) characteristics of C4FM provides better reception while moving and challenging weak signal
– Full 12.5 kHz bandwidth system provides high-speed data communication
– Snapshot Function allows you to enjoy image data with time and GPS information
– Digital Group Monitor (GM) Function
– Smart Navigation Function
Radio Features:
– Modulation Modes: 12.5 kHz C4FM Digital, Conventional FM
– AMS (Automatic Mode Select) function automatically recognizes the signal as C4FM digital or conventional FM
– 3.5-inch Full Color Touch Panel Operation
– Extremely reliable, high RF Output Power: 50/20/5 Watts
– Emergency Operation: Supports auto-switched backup battery power operation
– Front panel microphone connector is provided for use in repeater transmitter testing, and enables use as a base station
– Built-in large-size monitor speaker with front panel volume control
– Internal AC power supply
– 19″ Rack Mount Available
– High Stability ±2.5 ppm TCXO included
– DSQ (Digital Squelch Code) Signaling feature
– CTCSS and DCS Signaling feature
– ID announcement feature (Voice Mode: Requires FVS-2)
– Rear panel Control I/O port is connectable with the "S-COM 7330" repeater controller
– Base Station Operation – Adjustable Squelch Hysteresis (requires a stronger signal to open the squelch than it does to keep it open).
– Adjustable Squelch Tail
– CWID/Voice announcements with stripped PL Tones
DR-2X Exclusive Features::

 Dual Receive Operation

 Improved News Station feature permits sharing the voice and text messages to members.

 Group Monitor feature supports easy Grouping Set-up

 Stable High Power Output with large heat sink

 Commercial grade components for long-term reliable operation

 IMRS (Internet-linked Multi-site Repeater System) function for simple expanded area coverage via the Internet (option).
Specifications:
RX/TX Frequency Ranges: 144 to 148 MHz, 430 to 450 MHz
Channel Steps: 5/6.25 kHz
Circuit Type: Double conversion superheterodyne
Modulation Type: F1D, F2D, F3E, F7W
Power Output: 50/20/5 Watts
Case Size (W x H x D): 19″ x 3.5″ x 15″ (482x88x380mm) excluding knobs and connectors
Weight (approx.): 22.05 lbs. (10 kg)